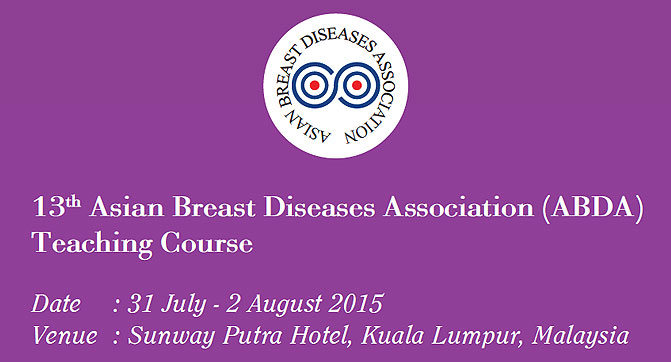 The 13th ABDA TEACHING COURSE, 2015 is organised by the Breast Group, College of Radiology, Academy of Medicine Malaysia, with the support of the Ministry of Health Malaysia and Malaysia Division and the Malaysian Oncological Society.
13 ABDA Teaching course will be held from 31 july to 2 august @ Sunway Putra Hotel KL (opposite PWTC). The annual Breast Seminar for jxr is also incorporated into this ABDA programme this year. There will also be a pre congress on 30 july – separate registration.(this is mainly for radiologists) (GE – ABUS workshop & SIEMENS – TBA soon).
The Breast Seminar which is an annual event organized by College of Radiology (COR) will be incorporating into the coming ABDA 2015 in Malaysia. The programme or flow of events for the course would be as follows whereby 1st day involves lectures for both radiographers and radiologist , 2nd radiographers mammography workshop at selected hospitals and the third day would be an expert panel discussion on breast disease/management related issues.
The dates for the early bird registration has been extended to 15 may 2015. Dates for submission for the abstract submission has been extended to 29 may 2015. The programme as well as registration forms are available on the CoR website.
Download: 2ND ANNOUNCEMENT ABDA