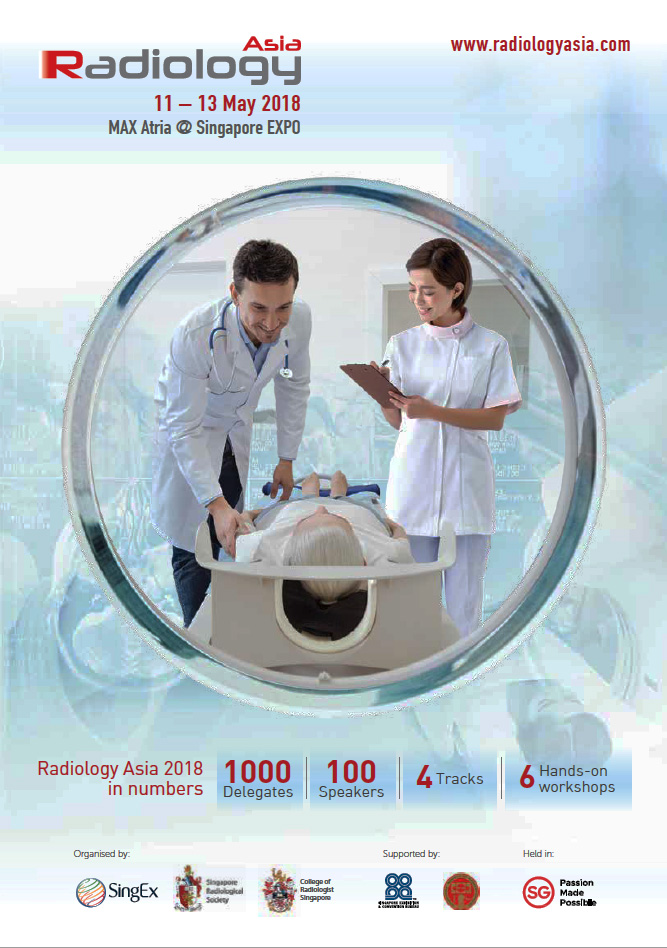 We would like to invite you at The Radiology Asia conference and exhibition, jointly organised by the Singapore Radiological Society and SingEx, will be held on the 11th to 13th of May 2018, at Max Atria @ Singapore Expo.
The four track, two and a half day conference, will attract over 1,000 regional delegates from SEA and ANZ; featuring upwards of 100 renowned faculty, focusing on key areas such as Abdominal, Breast and Chest Radiology and Healthcare IT. A distinct feature is the heavily subsidised conference passes for both radiologists and allied health.
Conference faculty includes:
– Seth Kligerman, (Radiologist, USA)
– Fiona J Gilbert (Radiologist, UK)
– Manabu Minami (Radiologist, Japan)
– Stephen Bird (Sonographer, Singapore)
– Tan Min Han (Oncologist, Singapore)
– Tan Puay Hoon (Hispathologist, Singapore)
– Apoorva Gogna (Radiologist, Singapore)
– Niketa Chotai (Radiologist, Singapore)
– Lester Leong (Radiologist, Singapore)
– Vidya Upadhyaya (Radiologist, Singapore)
The conference will also feature pre-congress workshops such as;
– Abdominal Oncologic Imaging Workshop
– Breast Intervention Workshop
– Doppler Ultrasound Workshop
– Idiopathic Pulmonary Fibrosis Workshop
– MSK Ultrasound Workshop
*Note: RadiologyAsia conference pass needs to be purchased first, the workshop will appear as an add-on option.
Conference passes for Radiologists like yourself are currently priced at SGD 360 and Allied Health (Radiographers / Nurses) at SGD 190.
Note: if there will be 5 or more than 5 Doctors/Allied Health profesionals who would be coming to attend Radiology Asia then we will provide passes at heavily subsidized rates.
Hope to see you in Singapore next month!, let me know once you register!
For more information, please feel free to refer to the attached information kit, or visit our website at www.radiologyasia.com.
I will be happy to provide more information or to clarify any queries.
Look forward to hearing from you soon.
Best Regards
Aakarshan Sethi
SingEx Exhibitions Pte Ltd | #01-01, 11 Tampines Concourse, Singapore 528729
Tel: (65) 6403 2595